History
The 23rd Avenue Bottle Shop is located across the parking lot from Tavern and Pool, in an grocery store that was a comfortable old fixture of the NW Portland community (a.k.a. Slabtown).
The shop was owned by Homer Medica (first photo taken in 1985, the second more recently) and his mother Rose, who were longtime friends of McMenamins.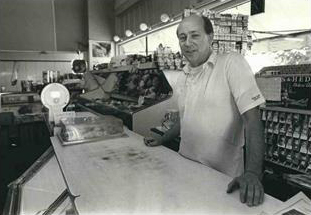 In 1993, famed Portland author Ursula K. Le Guin (writer of more than 80 short stories, two collections of essays, three volumes of poetry, and 16 novels) published a photo essay book called Blue Moon Over Thurman Street, in which she and a photographer documented all 45 blocks of people and places. As a fixture of the neighborhood, Homer was interviewed for Le Guin's book and was included in her acknowledgements. A recent book review said: "What was new or soon to be, already has faded, just a little. While the book is wistful and worried of an ugly future, the street itself abides. Old families remain. Nice new shops have opened. Houses are restored. It's still a very beautiful street and it still spans everything from industrial to commercial to rich and not so rich."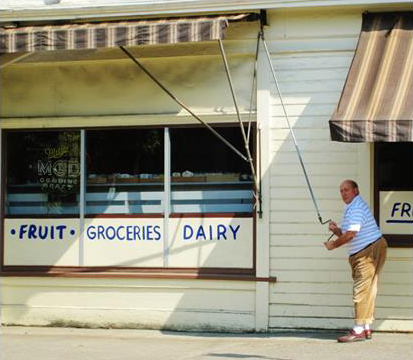 We are pleased to continue the legacy of this welcoming neighborhood joint, albeit in a slightly different fashion than Homer did. Instead of sandwiches and soda and bubblegum, McMenamins retail director Andrea Peterson and her staff will serve up eight-hundred-plus bottled craft beers, ciders, wines and spirits, both from McMenamins and around the world.
Not only that, but the shop will feature more than 39 kinds of sparkling wine, weekly cocktail specials, growler fill specials, food from T&P and 16 taps featuring our own beers and ciders, plus rotating guest brews. So, head to the north end of NW 23rd to get all bottled up.
Related blog posts
McMenamins History: Steve "Scotty" Hutton
Related content (tags):
History
Property > 23rd Avenue Bottle Shop
Type > History